Really? 6 months?? I remember when it was 24 months until the wedding, and now we're at 6 months?
I feel like I've just been chugging along on this engagement train- doing projects when I felt like it, booking all of our vendors well in advance, checking things off the list left and right. I really have been cool, clam and collected.
That was until this week.
The realization that the wedding is pretty close has started to set in. It's been so long since I have signed the contracts or talked to most of the vendors, and I feel like I need to send some "hey, remember me?" emails. I freaked a little about our guest list, but realized we won't have a better idea of a head count until those invites go out. We did invite a little more than our ideal number (but less than our venue's capacity so there are no worries about actually fitting everyone in the room), but I'm sure it will all work out one way or another.
Today BM Aggie and I are going to order the dresses for the bridesmaids and then do lunch. I can't wait to see the dresses when they come in. We had a change up in the strapless dress. Instead of the low back on this one...
2 of my best friends will be wearing this new strapless out from Bill Levkoff, #682. I'm
almost tempted to get one for myself because it's so cute!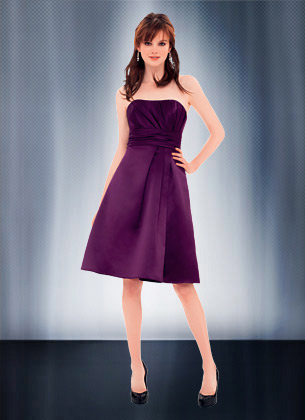 Another item that I have been putting off, but now seems like it needs to be done, is figuring out what the guys will be wearing. Why is it that the outfits for the guys are such a back burner item? This task has been dependent on Mr. E's schedule, which will be changing up as of tomorrow.
I can report on one minor check. Last week we headed to the linen store to pick out the linens for our sweetheart and cake tables. My flash picture doesn't do it justice, but with the lights down and pinspotting this overlay simply shines!
Did you have any minor (or major) freak outs as you realized that your wedding was getting closer?