I'm really looking forward to kicking off the wedding weekend with our nearest and dearest at our rehearsal Friday night. What better way to bribe them to listen up at the rehearsal than food? As soon as we're done with the rehearsal we'll be heading over to Blue Mesa for some Tex-Mex good times!
We've already reserved one of the 2 "party" rooms for our rehearsal dinner. I'm really excited to show off some Tex-Mex to our East Coast family and friends who don't get to enjoy it nearly enough... or like ever haha.
Here are some of the items on our buffet style menu (their site doesn't have any yummy food pictures, but I wanted to make you hungry so I added in some google images)
-Rainbow Chips
-Red Salsa and Fire Roasted Salsa
-Guacamole
-Queso
- Southwestern Caesar Salad with green and red peppers, grilled corn, cotija cheese and cornbread croutons
- Grilled Fajitas - combination chicken and steak with cheese, sour cream and pico de gallo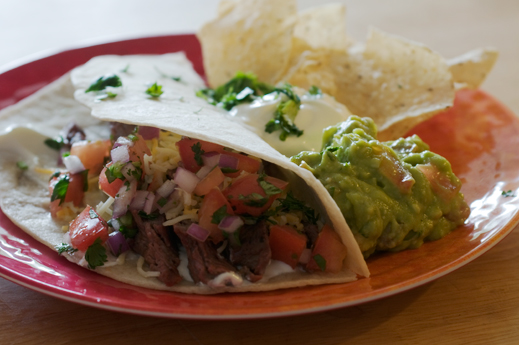 - Blue Corn Cheese Enchiladas
- Ginger rice
- Smoky black beans
- Sweet corn cake
And for dessert - Cinnamon Churros with warm chocolate and caramel sauces
All I can say is YUM!
Will you be having a rehearsal dinner? What type of food will you be eating?