I'm no Carrie Bradshaw. I do not have an obsession with shoes. In fact, I probably have less than 7 pairs that I wear on a regular basis, and 2 of those are flip flops. I can never really get over the pain of cute shoes to wear them to work, so I try to stick with flat or boots in the winter.
With my normal non interest in shoes, Mama Elephant was pleasantly surprised when I said that I wanted some awesome blue heels for the wedding. I love looking at wedding pictures where the bride has a little color hidden under her dress, and the blue heels can also count as my something blue! Below are some pictures I've found online when googling blue shoes: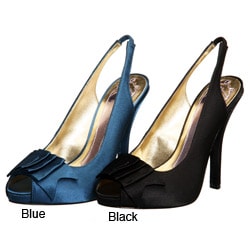 These are cute. (
source
)
As we all know, shoes can be a bit pricey, so I'll be looking for styles like the ones above, but of course at a good price! Since I probably won't last all night in heels, I'll probably also look for a pair of blue flats to change into after the first dances.

Will you be changing into a second pair of shoes to dance at your reception?